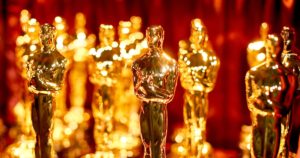 As I write this, I sit in my room watching 2014's Boyhood. Not too long ago, this movie was snubbed a rightful Best Picture win, losing to a film about the glam and the struggles of Hollywood stars.
Looks like history is about to repeat itself.
Don't get me wrong – La La Land is a good film, but it's a spectacular production wrapped in an all-too-conventional narrative. There's plenty in there to love, but 2016 had even more to love from other movies, seldom of which were nominated for Best Picture.
As much as it pains me to admit, sometimes my opinion has no impact. I'm no member of the Academy of Motion Picture Arts & Sciences, so my preference carries no real weight here. But I'll make the case for why I'd vote a certain way if my vote counted on Oscar night.
I'll also try to make my best guess as to who will win in the following categories. Finally, with so many movies overlooked this year, I'll throw in a few names that I think should have made the cut this year in these categories.
Best Picture
Predicted Winner: La La Land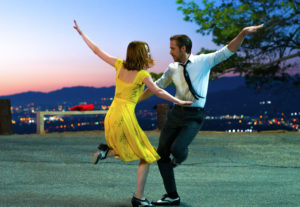 Everyone in the crowd will be shocked if La La Land doesn't pick up the big win on Oscar night. It's all about Hollywood – wonderful, difficult, magical Hollywood. Needless to say, it was a shoo-in months ago.
To be totally transparent, I did like La La Land a lot, and there were parts that I thought were just delightful. Emma Stone's performance, the songs, and the production value are all marvelous. None of this can be knocked down by the next two big contenders – Moonlight and Manchester by the Sea.
I personally thought Hacksaw Ridge was a more tightly-made motion picture than La La Land, while Manchester by the Sea and Fences were more emotional, and Hidden Figures was more relevant and enjoyable. So while La La Land is a great film – in my opinion – it was not the best of the year. Moonlight was overrated, Lion and HoHW were good, and Arrival was simply "High School Spanish Class: The Movie." I fully love just three movies on this year's list, none of which are La La Land.
AJ's Rankings
Hacksaw Ridge
Manchester by the Sea
Fences
Hidden Figures
La La Land
Moonlight
Lion
Hell or High Water
Arrival
Should Have Been Nominated: The Birth of a Nation, Nocturnal Animals, The VVitch
Best Director
Predicted Winner: Damien Chazelle, La La Land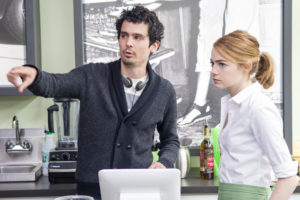 Damien Chazelle is a filmmaker talented beyond his years. With only two major movies under his belt, Chazelle is becoming one of the industry's most renowned directors. I personally liked Whiplash a lot better and was a much more powerful endeavor overall, but his moviemaking passion is clear in this film as well. I'd love to see the Oscars split Picture and Director like they have in previous years, maybe giving this award to Lonnergan for MBTS or one of their competitors. But it seems like the La La Land craze is here to stay (at least until Sunday).
As for my opinion, I've got to show my cards and give props to Mel Gibson for helming the best war movie since Saving Private Ryan (or maybe ever, for that matter). Lonnergan, Jenkins, and Chazelle brought out fantastic performances from their casts, while Villeneuve – who misinterprets boredom for purposeful pacing – should not be on this list.
AJ's Rankings
Gibson, Hacksaw Ridge
Chazelle, La La Land
Lonnergan, Manchester by the Sea
Jenkins, Moonlight
Villeneuve, Arrival
Should Have Been Nominated: Parker – The Birth of a Nation, Ford – Nocturnal Animals, Favreau – The Jungle Book, Craig – The Edge of Seventeen
Best Actor
Predicted Winner: Casey Affleck, Manchester by the Sea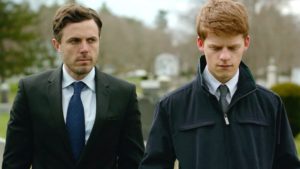 It's a race to the finish between Affleck and Denzel! I found Denzel to be more entertaining to watch – which made his character's mid-movie revelation that changes the course of the film all the more powerful. Affleck is equally as powerful – just in a much more subtle way. Denzel and his Hollywood buddies could rally for a strong finish, but Affleck was the early front-runner, so I'll stick with the prediction for Affleck's deserved win.
As for my preference, I'd love to see Affleck finish strong, especially since this role is not unfamiliar to Denzel (a Tony Award winner for the exact same role on Broadway). Andrew Garfield does some of his best work in Hacksaw, and Gosling gets the classic nomination-by-association for La La Land. I have yet to see Captain Fantastic, yet have heard nothing but good things about Mortensen and the movie.
AJ's Rankings
Casey Affleck, Manchester by the Sea
Denzel Washington, Fences
Andrew Garfield, Hacksaw Ridge
Ryan Gosling, La La Land
Also Nominated: Viggo Mortensen, Captain Fantastic
Should Have Been Nominated: Joel Edgerton – Loving, Sunny Pawar – Lion
Best Actress
Predicted Winner: Emma Stone, La La Land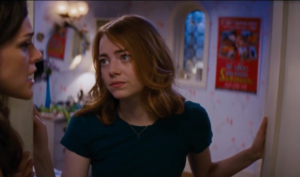 As good as I have tried to be about seeing movies this year, I missed out on a few – notably Elle, Jackie, and Florence Foster Jenkins. So…#TeamEmma? I'm just mad that Hailee Steinfeld missed the mark here for The Edge of Seventeen, as did Taraji P. Hensen for Hidden Figures, though I speak with less confidence here because I'm suggesting these two replace performances that I haven't seen yet.
Best Supporting Actor
Predicted Winner: Mahershala Ali, Moonlight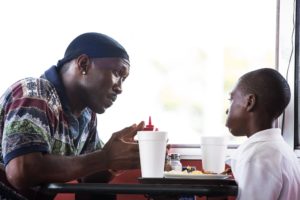 I've kind of hated the supporting categories these past few years. This year is no different. With a short yet respectable performance in Moonlight, Mahershala Ali is set to take the stage on Sunday.
I don't think this was the best supporting male performance of 2016 – nor the best performance in Moonlight for that matter. The Academy also nominated the wrong actors from Nocturnal Animals, Lion, and Hell or High Water. That said, I honestly don't care who the win goes to this year because I know it's not going to my preference – the bare and moving performance from Lucas Hedges in Manchester by the Sea.
AJ's Rankings
Lucas Hedges, Manchester by the Sea
4-way tie for "Who cares?": Michael Shannon – Nocturnal Animals, Mahershala Ali – Moonlight, Dev Patel – Lion, Jeff Bridges – Hell or High Water
Should Have Been Nominated: John Goodman – 10 Cloverfield Lane, Aaron Taylor-Johnson – Nocturnal Animals
Best Supporting Actress
Predicted Winner: Viola Davis, Fences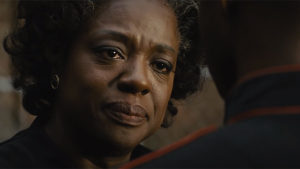 Viola hands in quite a performance in Fences, and all bets should be on her. Her one point of weakness is that she – like Denzel – has performed this role before and has already been awarded for it.
My personal preference goes to Naomi Harris, who gave the actual best performance in Moonlight, ranging from vulnerable to vicious. Viola's only real competition – however distant – is from Michelle Williams, who may be more of a front-runner had she been given a bit more screen time.
As for the other nominees…what exactly is Nicole Kidman doing here? I also feel the Academy nominated the wrong actress from Hidden Figures here – Janelle Monae had a more important and engaging story, plus a stronger on-screen presence.
AJ's Rankings
Naomi Harris, Moonlight
Michelle Williams, Manchester by the Sea
Viola Davis, Fences
Octavia Spencer, Hidden Figures
Nicole Kidman, Lion
Should Have Been Nominated: Amy Adams – Nocturnal Animals, Janelle Monae – Hidden Figures
Best Original Screenplay
Predicted Winner: La La Land
I am predicting a win for La La Land, but I am praying for a win for Manchester by the Sea. Unquestionably, the least impressive aspect of La La Land was its screenplay. Its characters, their conflicts, and the central romance were noting special whatsoever. What was special, however, was Manchester by the Sea. It's raw, heart-wrenching, and dares to go where few screenplays have – and it is done well. There is a chance this dark horse could be victorious. Until then, I'll dream.
This category also includes the quirky and unique screenplay for The Lobster, which is probably too polarizing for a win. 20th Century Women's screenplay was an earnest endeavor, and the last half hour of that film was cinematic bliss. That said, it lacks the punch of the two frontrunnners of MBTS and La La Land. Hell or High Water also had quite a sincere screenplay, but faces a tough sea of competition.
AJ's Rankings
Manchester by the Sea
20th Century Women
The Lobster
La La Land
Hell or High Water
Should Have Been Nominated: The Birth of a Nation, The Edge of Seventeen, Zootopia, Sing Street
Best Adapted Screenplay
Predicted Winner: Moonlight
The only reason I am slightly okay with the probability of Moonlight winning is because that means Arrival won't. Fences' dialogue and story structure were truly astounding, but doesn't have too strong a shot compared the the previously-mentioned scripts. Hidden Figures was a bit too much of a crowd-pleaser, and God forbid the Academy recognizes one of those. Lion was a moving picture, but that's more to do with its editing, directing, and acting compared to its screenplay.
AJ's Rankings
Fences
Hidden Figures
Moonlight
Lion
Arrival
Should Have Been Nominated: Nocturnal Animals, Loving
And now, the rest of the nominees for feature film…
Best Cinematography
Prediction: La La Land
Preference: Arrival
Best Costume Design
Prediction: La La Land
Preference: Fantastic Beasts and Where to Find Them
Best Film Editing
Prediction: La La Land
Preference: Hacksaw Ridge
Best Production Design
Prediction: La La Land
Preference: Passengers
Best Original Score
Prediction: La La Land
Preference: La La Land
Best Original Song
Prediction: La La Land (City of Stars) 
Preference: Trolls (Can't Stop the Feeling)
Best Sound Editing
Prediction: Hacksaw Ridge
Preference: Hacksaw Ridge
Best Sound Mixing
Prediction: La La Land
Preference: Hacksaw Ridge
Best Visual Effects
Prediction: The Jungle Book
Preference: The Jungle Book
Best Animated Feature
Prediction: Zootopia
Preference: Zootopia
Best Makeup & Hairstyling
Prediction: Star Trek Beyond

Tallied Predictions
La La Land: 11
Moonlight: 2
Fences: 1
Hacksaw Ridge: 1
The Jungle Book: 1
Manchester by the Sea: 1
Star Trek Beyond: 1
Zootopia: 1