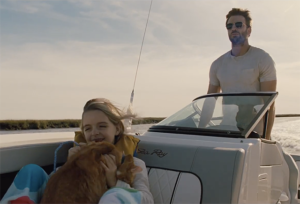 "Gifted" is not only the title of this wonderful film. It's also an adjective that can be used to accurately describe music composer Rob Simonsen, cinematographer Stuart Deyburgh, director Marc Webb (yes, even in the wake of The Amazing Spider-Man), and – most of all – young actress Mckenna Grace. Heck, I'm feeling generous, so I'll even say the term applies to Chris Evans, since the Avengers star gives what may be his best performance yet.
The film stars Mckenna as Mary, the 7-year-old niece to Chris Evans' character Frank. Stemming from the genetics of her mother, Mary is a mathematical prodigy, effortlessly utilizing the Trachtenberg system to crunch numbers in her mind, shocking her first grade teacher Miss Stevens (Jenny Slate) on her first day of school.
As the word of Mary's genius spreads throughout the administration, Frank's choice to place Mary in the traditional education system and live a "normal" life starts to get scrutinized. The school decides to reach out to Mary's grandmother and Frank's mother Evelyn (Lindsay Duncan), who takes her son to court for the right to raise young Mary and choose a more challenging path for her education. In Evelyn's eyes, it's worthwhile to skip prom and Girl Scouts to properly foster one of the greatest minds in the history of mankind.
Gifted is a film about love, its countless forms, and how it's perceived by different generations and those in various walks of life. It's a film about family, and serves as a reminder that one can never fuly separate  themselves from their family's presence – physical or otherwise – despite the truest or most arduous efforts. It's a film that rips your heart out and then makes it soar in the course of 15 minutes without at all feeling manipulated by a film crew or a production studio's budget.
It is so effective at what it sets out to be because of the true talent in front of and behind the camera. There were no weak links in the characters – other than that they are flawed humans just like you and I. The scenes where Frank is at odds with Mary or Evelyn are because the characters are so sincerely written and established that their conflicts are justified, believable, and thus heartbreaking.
Yet for every scene like this, there are two or three that counter it with soul-lifting humor and emotion. Mckenna's performance as Mary is a revelation, making us laugh and gasp in a truly unbelievable child on-screen presence. She's confident in her character and in her acting ability, and with this one credit (plus her brief stint on "Fuller House" (yes I watch "Fuller House")), she has cemented her name on my list of young stars to watch, alongside such talents as Tye Sheridan and Jacob Tremblay.
And again, I can't dismiss the work of Chris Evans, who's extremely believable as Frank and conveys the man's inner turmoil with such earnestness. The same goes for the Duncan and Slate, each of whom possess a magnetic quality in front of the camera even in a packed ensemble.
What's so impressive about this film is the depth of the decision that must be made when it comes to Mary, and how every character – lead and supporting, family members, Frank & Mary's neighbor Roberta (Octavia Spencer), judges, and lawyers – all have a stake in what happens to young Mary, yet none of them go about handling the dilemma with selfish reasons, even though they absolutely are in opposing character's eyes.
Through these characters, the movie thrusts the decision on the viewer with a "What would you do?" mentality that I haven't seen in anything this deep since 2007's Gone Baby Gone. We're confronted with the reality that no one – ourselves included – really knows what the "right" way to bring Mary up is. All the while, Simonsen's breezy soundtrack helps to painstakingly depict what is – or in some scenes, what could be – a better day for these characters.
I've thought about why I would give Gifted anything less than 5 stars. Maybe it would be because the movie was safe – but it wasn't. The more I think back on it, the more I recognize its unexpected depth and appreciate the legitimacy and importance of its themes. Maybe it would be because the movie coerced me into a false state of sappiness – but it wasn't sappy, and it wasn't false. I genuinely cared for Mary, Frank, Roberta, and Miss Stevens (and even Evelyn towards the end).
Admittedly, I feel like I'll get some backlash for rating this film so highly, which is why I'm doing my best to lay out why I do think this film is well worth your time. And I know I haven't reviewed many movies lately, but the more I think about what it means to be a film critic, I've come to realize it's less about speaking to your perception.
Don't get me wrong – agree or disagree with me all you want, that's your right. Email me and I'll happily drop what I'm doing and discuss the merit of any film ad nauseam. However, what I am doing with this platform is speaking from my feelings and experience in an attempt to justify what I think about a movie.
When it comes to Gifted, I've got no complaints.
Rating: 5/5